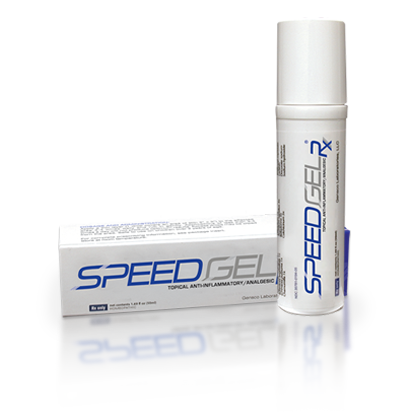 The Non-NSAID Alternative for Pain, Inflammation and Bruising as Directed by a Physician.
SpeedGel Rx® is a prescription homeopathic topical analgesic gel that provides relief of pain and inflammation utilizing a patented Isopeutic™ Transdermal Technology.
The Gensco patented transdermal drug delivery system used in SpeedGel Rx® carries scientifically formulated active ingredients, proven to relieve pain and inflammation, to the affected site.
Launched March 2012
Next generation, higher potency
Available by prescription only
Odorless, no hot or cold sensation (amber in color)
Gensco's unique metered dose technology (MDose™) dispenses the exact amount of medication (0.25 mL per pump) per application

Non-Narcotic, Non-Addictive, Non-NSAID
No known drug interactions or adverse side effects
Next Generation analgesic with greater strength that contains 14 active ingredients
(including Zingiber Officinale)
Metered 0.25ml dose
SpeedGel Rx Size 10ml NDC 35781-0210-1
0.33 fl oz. (10ml) equivalent to 40 doses.
3-4 times daily or as directed by a physician.
SpeedGel Rx Size 30ml NDC 35781-0210-2
1.01 fl oz. (30ml) equivalent to 120 doses.
3-4 times daily or as directed by a physician.
Accurate Dosing. Patient Friendly. Clinically Proven.
When an NSAID is not an option, trust SpeedGel Rx.
Product Insert How to Write Patient Information Patient Trifold (English) Patient Trifold (Spanish)